At Freedom Caregivers, we believe that seniors who remain in the safety and comfort of their home are healthier, happier, and age more gracefully. If you desire to come to work and make a difference in someone's life, we need YOU on our team!
We also believe that working as an in-home caregiver one-on-one with clients is less stressful, more rewarding, and promotes a better work/life balance for caregivers/aides than working in a care facility or in food service or retail.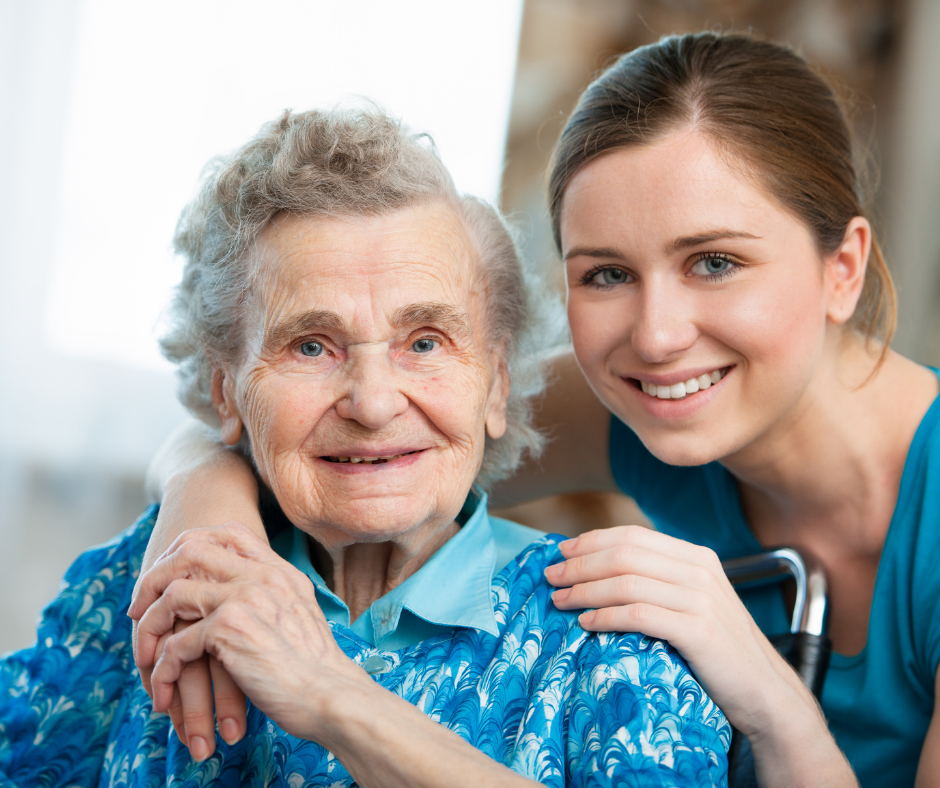 Our caregivers make a difference in their client's lives every day by:
Helping them to maintain their normal routines

Reducing stress and anxiety

Encouraging independence and self-directed care

Postponing institutionalization and preventing pre-mature decline

Providing safe transport

Giving peace of mind and family support
We provide a paid, comprehensive, RN developed training program, as well as training shifts, plus paid travel time and mileage reimbursement. Our office staff are friendly, communicative, and work with your scheduling needs to promote work/life balance. 
Experience with caregiving is preferred, but we know that anyone with a passion for helping seniors and making a difference will be a great addition to our team.
Benefits we offer include:
Paid orientation and training

Mileage and travel time reimbursement

Paid continuing education and growth opportunities

MEC health benefits for Full-Time employees

Referral bonuses

Incentive program to earn gift cards

Paid time off for Full-Time employees

Bi-weekly direct deposit and daily or weekly pay advances through TapCheck
Would you like to build your own pay schedule?
Freedom Caregivers now offers on-demand pay through TapCheck.
Access money you've earned as soon as it's available, and when your payments are due.
Award Winning Caregivers
Johnie Marshall of Freedom Caregivers, winner of the Ohio Council for Home Care and Hospice's Homemaker/Aide of the Year 2022. 
Pictured with Director of Maketing and Public Relations, Rene Zamora and Director of Operations, Amy Miller, "Johnie lives his love for others by accepting and meeting them where they are in their need for care, breaking through pride and resistance with reassurance and patience.
He has helped clients and their families work through life transitions, including moving from in-home care to in-facility care, and remaining after clients' passings to help loved ones work through their grief and next steps.
Johnie provides in-home care aimed at helping elderly individuals age in place at home rather than transitioning to alternate care settings through his position at Freedom Caregivers.
Johnie's compassion and service to his clients is exemplary, and he walks our company mission of Honoring God in Service to Others."
Read the article here.
Visit the OCHCH website.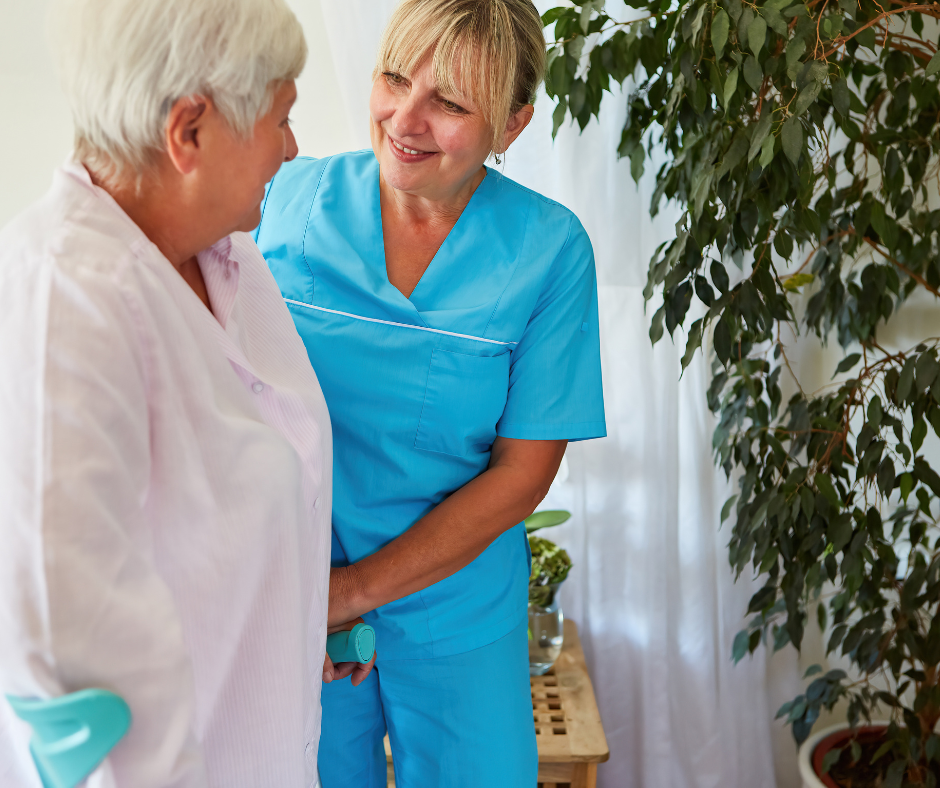 A caregiver is anyone who provides care for a person who needs extra help.
Freedom Caregivers provides non-medical in-home care services to assist older individuals to live independently, in their own home, by helping them with the tasks of everyday living.
Click HERE to find out more!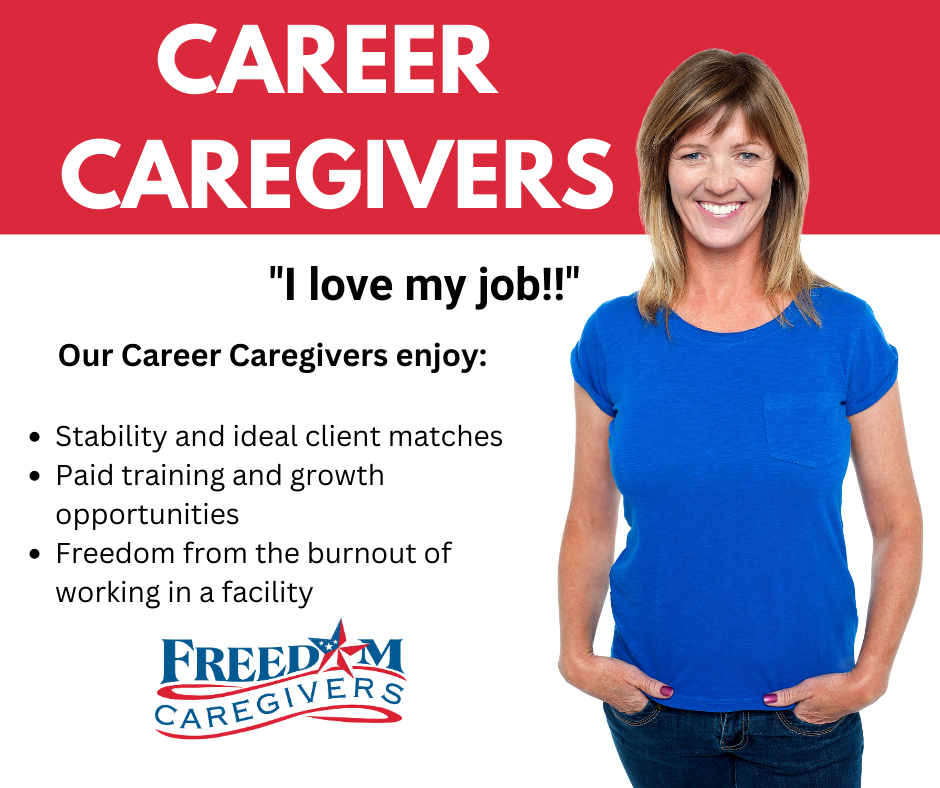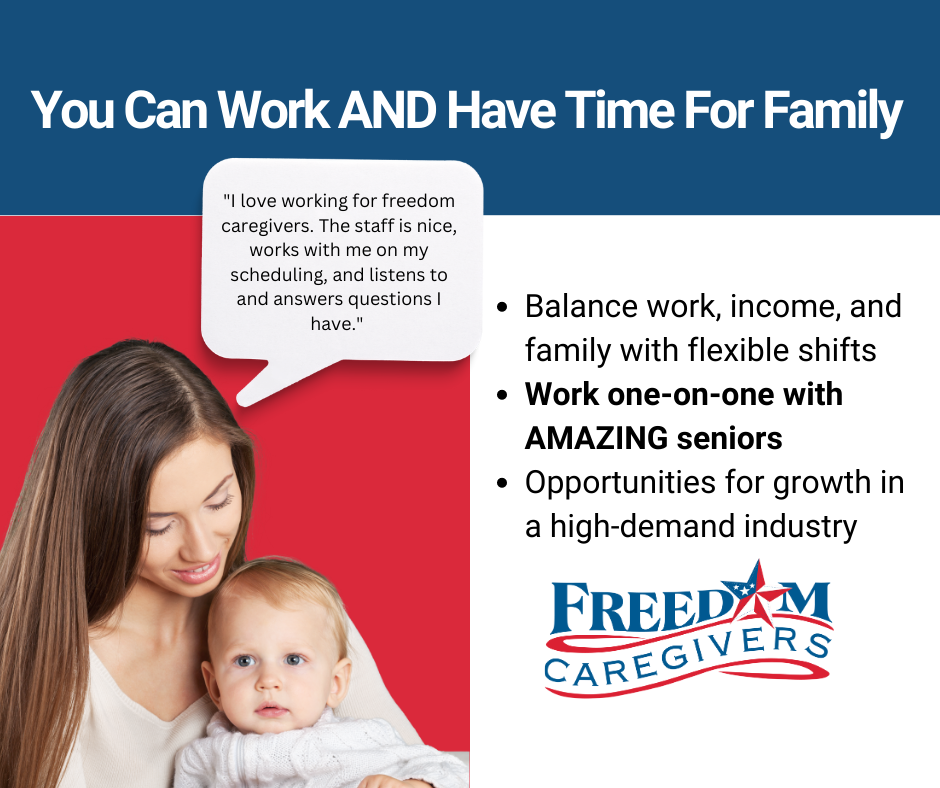 Our Caregiver Demographic
Freedom Caregivers is made up of individuals of all ages and backgrounds. Some of our caregivers begin with no experience at all. We provide paid orientation, training, and ongoing education. 
Students interested in a career in healthcare….
Enjoy scheduling around school while making a difference in your community. Earn money as you gain experience resume-building skills, and exposure to multiple different healthcare careers.
Parents who need flexibility in their careers….
Join our family-oriented culture and work
with our team to build a schedule that works well with your life. Bring the skills you use to juggle current work and household responsibilities to provide care for someone who truly needs you!
Individuals looking for purpose in retirement… 
Use your time to help someone in the community and earn extra income. Let us match you with a client and give you the opportunity to serve other people, do good, and work a schedule
that won't interfere with your family-time.